S1E67 - 67 - Bubungus :)
1 year ago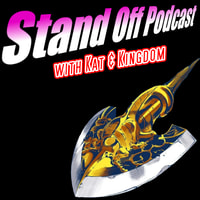 "Invisible Spin" implies that the spin in Part 7 was visible which.... I don't thin was true???? How do you see the concept of "spin"? Jojo's is very good.
We FINALLY get some good vamping this episode.
Matchups:
Killer Queen VS Speed King
Stone Free VS Catch the Rainbow
Find the show on Twitter at @StandOffPodcast
Hosted by Kat (@RealKatsuneMiku) & Kingdom (@TachyonKingdom). Guested by Fiona (@Gaylien_Invader).
Our Intro/Outro Music is "Mad Raucous Strange City" by NiceWizardMusic
This podcast is powered by Pinecast.